The secret of Iranian drones for Russia: why Putin flew to Tehran
"The parties will keep the deal secret"
Today, July 19, Russian President Vladimir Putin is meeting with the leaders of Iran and Turkey in Tehran. The talks will be held both within the framework of the Astana format to resolve the situation with Syria, and within the framework of personal meetings. On the eve of the meeting, "MK" talked about possible agreements with a military expert, editor of the publication "Persian Bastion" Yuri Lyamin.
Photo : kremlin.ru- Iran has indeed achieved very good results in the creation of drones. However, now it is rather difficult to say what is really happening between Russia and Iran in the field of unmanned aircraft. The fact is that military-technical cooperation between our countries is often very closed. Some contracts may not be disclosed at all. It happens that something becomes known only years later, when it is no longer possible to hide it.
For example, more than a decade ago, Russia supplied Iran with several radar stations, which became known not so long ago. Previously, both countries were silent, as this was primarily due to sanctions against Iran.
Now, given that sanctions have also been announced against us, I think no one will spread any deals in the military-technical field, all the more so. Even if some specific deals are made, the parties will probably keep them as secret as possible.
Both countries have something to offer each other. Iran is interested in manned combat fighters and attack helicopters. He really needs them, since Iran itself, due to many years of international sanctions, cannot yet produce them. Some of the sanctions were only lifted in 2020. Prior to this, Iran could not acquire almost anything abroad for its Air Force. The technology is very outdated. And now in terms of military aviation, I think Iran is showing a strong interest in our capabilities.
– Of course, the most interesting topic for us is Iranian drones. In recent years, this direction has been a priority for Iran. He created a very wide range of unmanned vehicles: reconnaissance, strike and so-called kamikaze drones. And they have such unique models that no one else has. For example, long-range kamikaze drones are a kind of analogue of cruise missiles, but much cheaper and with minimal visibility.
This was demonstrated when the Yemeni Houthis attacked oil installations in Saudi Arabia last year, using drones filled with explosives in addition to missiles. Air defense systems purchased by the Saudis in the United States simply did not notice them and let them through.
– Iran, of course, denies any accusations of helping and supplying weapons to the Houthis, but judging by the information coming from the field about the technical data of the drones, these were Iranian drones. At least they are very similar.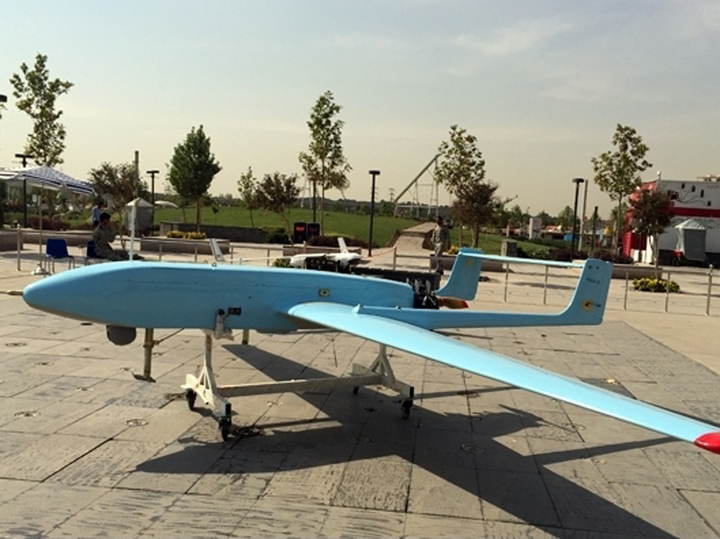 Photo: en.wikipedia.org
– Iran has good models of rockets, anti-tank missiles, guided missiles. They could interest us right now, in the conditions of the special operation in Ukraine. If only because this is a large-scale operation, the consumption of such ammunition is large.
Although our industry is increasing production, it is not done instantly. I think that the purchase of such weapons in Iran could also be of interest to us. In general, Iran has a fairly developed military industry and a large range of products.
– Israel is probably not too pleased with such a rapprochement between Russia and Iran. But, on the other hand, Israel has its own limitations in terms of military-technical cooperation with us, since Israel is very much tied to the United States in this area. Now it is difficult for him to work with us. Much harder than a few years ago.
Previously, we also tried to maintain a certain balance in the field of military-technical cooperation with Israel and Iran. But now it is clear that we will move away from Israel and develop closer cooperation with Iran. If at one time we bought a license from Israel for the production of Searcher reconnaissance drones – we produced them under the name "Forpost", – now such contracts are basically impossible, the United States will not allow this to Israel. The Israelis are well aware that for their part they cannot offer us any alternative. But then what can be resentment?
– Military cooperation with Iran has been developing quite actively in our country before. For example, in Syria we were on the same side. They acted there as allies in the fight against terrorism. This collaboration is still ongoing.
We have joint military exercises with Iran from time to time. First of all – naval. In addition, Iran is currently undergoing the procedure for admission to the Shanghai Cooperation Organization (SCO), which also has a security component between the SCO member countries.
– Undoubtedly. Iran's joining the SCO is a landmark event both from a political and military point of view. Iran is located on the border of the Near and Middle East. It turns out that the first country that can be attributed to the Middle East region is joining the SCO, which is very important. And if we remember that Iran plans to join the BRICS countries, then the importance of our bilateral cooperation will increase even more.
– The meeting is held within the framework of the Astana process, where Russia, Iran and Turkey are the guarantors of the peace processes in Syria. Cooperation in this format lasts more than one year. Russia and Iran act here as allies of the Syrian government, while Turkey acts as the main guarantor acting in the interests of the Syrian opposition. Turkey de facto protects the province of Idlib in northern Syria, where Turkish troops are stationed. Despite the fact that we are pursuing different goals here, cooperation and contacts between our three countries continue.
Erdogan does not want to violate the interests of Turkey for the sake of Washington's interests – the United States is far away. In addition, the States cover the Kurds in northeast Syria, and Erdogan has his own problems with the Kurds. And in this regard, contacts with Iran and Russia are very important for him. Moreover, these are the regional centers of power closest to Turkey.
Erdogan has repeatedly proved that he is an independent strong player in the international arena. Even now, when the United States is pressing so hard on all countries in an attempt to isolate Russia from the world, Erdogan does not want to sacrifice Turkey's interests for the sake of the United States. And if for this he needs to go against the United States and NATO, he will do it, which he has already proved.
However, in the same way, if he needs to, he will step on the interests of Russia and Iran. But in any case, this is a person with whom you can do business and negotiate.
– The meeting is very important. The close attention of many countries is now riveted to it. For Vladimir Putin, this is one of the few foreign visits since the beginning of the special military operation.
It is indicative in the sense that our leader cannot be isolated from international affairs, as the United States is trying to achieve. And in itself, this visit will certainly give a significant impetus to the development of our relations, primarily with Iran. Agreements can be reached there, which, quite likely, we will not know about in the near future, but they will be very important in the coming years. And this applies not only to the North-South transport corridor or trade issues. In addition to political and economic, we also have many military and military-technical aspects for possible interaction.