Putin hinted where to spend billions of dollars
"You can't circle Russia with a compass and put up a huge fence"
Vladimir Putin hinted to exporters where they should send their accumulated billions of dollars. Money, in his opinion, should be invested in the development of high-tech products, which Russia has lost due to sanctions. Companies with state participation will receive directives from the Ministry of Finance in this regard. Another source of funding for the "numbers" can be the pension savings of citizens. But here one must act carefully and ensure the unconditional safety of funds, Putin stressed.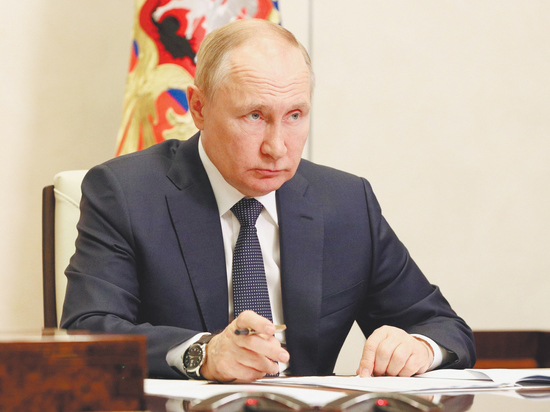 Photo: kremlin.ru
Vladimir Putin devoted the next meeting of the Council for Strategic Development and National Projects to the most vulnerable area – high technology. If earlier they were designed to increase the competitiveness of the Russian economy, now, according to the president, it is a matter of survival. Western countries have introduced not just some restrictions, but completely blocked access to critical equipment, microelectronic components and foreign software products. "This is a huge challenge for our country. But we are not going to sit back, be in some kind of confusion and retreat a decade ago. Of course not!" – Putin said, noting that Russia has every chance to ensure not only its technological sovereignty, but also sell domestic developments on the global market. "You can't circle (the country) with a compass and put up a huge fence, in the modern world this is simply impossible," he stressed.
However, the GDP was forced to admit that in previous years the import substitution program in the high-tech sector developed with a significant lag, and to recognize the work that was supervised (and co-financed) by large state corporations "cannot be particularly successful." There is obvious progress only in the field of artificial intelligence, quantum communications and composite materials. Whereas 5 out of 13 critically important areas are not implemented at all, and for the rest, the level of implementation does not exceed 20%. "And, of course, these indicators will not be achieved in 2022," Putin stated. Rostec, which is known to be headed by an old friend of the president, Sergei Chemezov, has the biggest problems. According to GDP, the state corporation has demonstrated "modest results" in its areas of "end-to-end" technologies, and these are: fifth-generation networks, quantum sensors, Internet things, distributed registry technologies, new production technologies, microelectronics and electronic component base. "The microelectronics industry development project had to be completely restarted last year," Putin reminded without much enthusiasm.
First Deputy Prime Minister Andrey Belousov explained that the successes achieved in the field of end-to-end technologies are directly proportional to the amount of funds invested by state corporations. If the curator bank invested 20 billion rubles in artificial intelligence, then the funding allocated for all 6 Rostec programs amounted to only 1.1 billion rubles, and there are companies that have not invested anything at all. Belousov said that unified approaches and vigilant control are needed. State corporations should invest in development no less than what is allocated from the federal budget. And the annual bonuses of the heads of such structures, according to him, must be made dependent on investments made in digital.
However, the government understands that the lack of enthusiasm on the part of state-owned companies is associated with high risks of such investments. (By the way, for the same reason, Russian commercial banks also refuse to lend to digital money.) The participants of the meeting devoted a lot of time to discussing where to get money under the sanctions, but they did not come to a consensus. Moscow Mayor Sergei Sobyanin, on behalf of the governor's corps, criticized the ideas of the Ministry of Finance to assign part of the costs to regional budgets. And the head of the Central Bank, Elvira Nabiullina, explained that pension savings as long-term money can be used with great care. "Pension funds can be a source. But it is necessary to ensure the high safety of these funds, "the president supported her position. According to Putin, for high technologies it is necessary to look for large investors, and everyone knows who can act in this role, "they are all over the place." "We need to work with our companies that don't know what to do with the accumulated billions of dollars," he said, referring primarily to the oil and gas monopolies. Now they are looking for import opportunities, coming up with all sorts of workarounds for this. And you need to get them interested in working with the high-tech sector. This, according to Putin, is "a wonderful way to use the accumulated resources." "Do companies with state participation need to prepare directives so that they also invest?" – knowing what kind of monsters you have to deal with, said the head of the Ministry of Finance Anton Siluanov. "Of course! — gave the go-ahead to GDP. "We need to meet with them, work, create appropriate alliances."