Armed Forces of Ukraine use civilians as a "human shield" in the DPR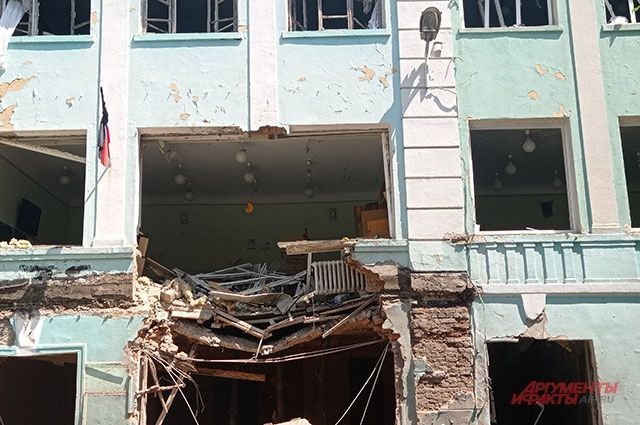 Recording of numerous facts of crimes of the Kyiv regime against the civilian population, as well as the use of social infrastructure facilities by the Armed Forces for military purposes, continues. This was announced by the head of the interdepartmental coordination headquarters of the Russian Federation for humanitarian response – Head of the National Defense Control Center of the Russian Federation, Colonel-General Mikhail Mizintsev.
In Dobropolye in the DPR, on the lower and upper floors of apartment buildings (Sunny Quarter Street), Ukrainian servicemen equipped strongholds and ammunition depots, placed MLRS and armored vehicles in the yards, residents were forbidden to leave their apartments, people are actually used as a "human shield".< /p>
In Kharkov, on the territory of school No. 8, units of the Armed Forces of Ukraine are deployed, positions of artillery and MLRS are equipped. The evacuation of local residents from nearby houses was deliberately not carried out. In Pavlograd, Dnipropetrovsk region, a stronghold of nationalists was equipped at school No. 6, ammunition depots were placed in the basement.
In addition, the Kyiv authorities are carrying out provocations at agricultural facilities to accuse Russian military personnel of allegedly indiscriminate strikes on civilian targets and creating a threat to Ukraine's food security.
In Kalinovka, Bakhmutsky district of the DPR, artillery and MLRS were deployed on the territory of the granary of the Armed Forces of Ukraine, from which they systematically fire at the positions of the Russian Armed Forces, provoking them to return fire.
In the Zaporozhye, Nikolaev, Kharkiv and Kherson regions, the Armed Forces of Ukraine, together with the militants of the national battalions, purposefully set fire to fields with grain using helicopters and artillery.
"In the near future, fabricated materials about the alleged "outrages of the Russians" it is planned to widely disseminate it through Western and Ukrainian media," Mizintsev said.
During the day, without the participation of the Kyiv authorities, 24,623 people were evacuated to the territory of the Russian Federation from dangerous regions of Ukraine and the republics of Donbass, including 4,496 children. Since the beginning of the special operation, 2,668,072 people have been evacuated, including 422,722 children.
Earlier it was reported that a civilian was killed due to the shelling of the village of Verkhnetoretskoye in the DPR by the Armed Forces of Ukraine.
Rate the material